When:
November 11, 2019 @ 10:00 am – 2:00 pm
2019-11-11T10:00:00-08:00
2019-11-11T14:00:00-08:00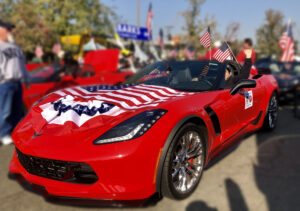 Corvettes of Bakersfield will be participating in the upcoming downtown Bakersfield, Veterans Day Parade, November 11th, 10:00 am. We have secured slots for twenty club member Corvettes and will be assigned on a first come first served basis. There is no cost for club members to participate. We are registered as a club and will be participating as such and will not be chauffeuring veterans as in the past. However that does not mean we won't if there is some that would like to ride in our cars. Our club has several members that are veterans and are encouraged to wear or display items or insignias of their branch of service such as baseball hats, flags, clothing, uniforms etc.
We as a club should pre-stage at 9:00 am in the parking lot south of Lorene's Coffee Shop 1531 23rd St (do not park in the Coffee Shop's but in the lot south of it). Do not decorate until we reach our final staging point. We are #49 and it will be after 11:30 before we move plenty of time to decorate. Lawn chairs are suggested while we wait. Bathrooms are scarce. The American Legion at 2020 H st serves a breakfast starting  at 7 am and free for veterans and available to the public.
Schedule:
-American Legion breakfast 6:30am: Post 26 ( Veteran's eat free)
-Flag Raising Ceremony 8am: At Veteran's Memorial Truxtun & S St.
-Veteran's Day Parade 10am
-Lunch served after parade ( Veteran's eat free)
-Awards ceremony 2pm