When:
June 21, 2019 @ 6:00 pm – 9:30 pm
2019-06-21T18:00:00-07:00
2019-06-21T21:30:00-07:00
Where:
The Habit Hamburger Grill
Artisan
Bakersfield, CA 93311
USA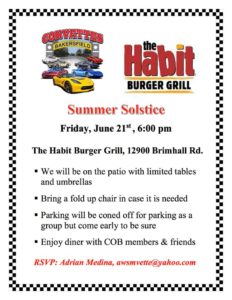 June 21, 2019. The Habit Hamburger Grill in the Artisan Square at Brimhall and Allen Road in Bakersfield, Ca. will be participating in our celebration of the Summer Solstice by donating 20% of their proceeds through Corvettes of Bakersfield to our local charities. Flyer will be distributed soon. Please make a copy or save it on your phone and submit it to The Habit Hamburger Grill and help your local charities. The flyer must have a bar code attached. If you forget your flyer, just mention Corvettes of Bakersfield and they will take care of the rest.
The Pizza Press is joining in on our fundraiser. Please come and join Corvettes of Bakersfield, The Habit Burger Grill and Pizza Press in the Artisan Square for a fundraiser for our local charities and to celebrate the Summer Solstice on June 21st. Download these flyers and present them by phone or paper to The Habit or Pizza Press on Brimhall and Allen Road in the Artisan Square shopping Center between 5 PM and 9 PM. 20% of the proceeds will be given to the Corvette of Bakersfield to help our local charities. You may, also, just mention the name "Corvettes of Bakersfield " and we will receive 20% of the proceeds. We expect 20 to 30 Corvettes to be on display so come check us out. Thanks!
Download Habit Flyer with bar code