<- Back to Veterans Charity Car Show
Platinum Sponsor – minimum donation $3,000
·         Company Logo – large on Advertising
·         Company Tags and logo in Media
·         Company Logo Large Link on our website
·         Complementary Booth or vehicle at show
·         Company announcements day of show
·         May provide logo goody bags & marketing items
·         Receive thank you plaque
Gold Sponsor – minimum donation $2,000
·         Company Logo – Medium on Advertising
·         Company logo in Media
·         Company Logo Medium Link on our website
·         Complementary Booth or vehicle at show
·         Company announcements day of show
·         May provide marketing items for goody bags
·         Receive thank you plaque
Silver Sponsor – minimum donation $1,000
·         Company Logo – Small on Advertising
·         Company logo in Media
·         Company Logo Small Link on our website
·         Complementary Booth or vehicle at show
·         Company announcements day of show
·         May provide marketing items for goody bags
·         Receive thank you plaque
Bronze Sponsor – minimum donation $500
·         Company listing link on our website
·         Complementary Booth at show
·         May provide marketing items for goody bags
·         Receive thank you plaque
Patriot Sponsor – minimum donation $250
·         Company listing link on our website
·         Company announcements day of show
·         May provide marketing items for goody bags
Supporter Sponsor – minimum donation $100
·         Company listing link on our website
·         May provide marketing items for goody bags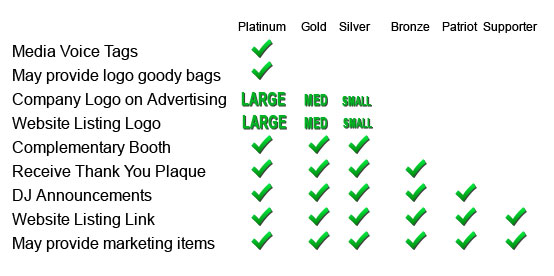 Dear Supporter,
Corvettes of Bakersfield is a not for profit organization, established in 1967, that raises money to support local charities.  Since its establishment in 1967, tens of thousands of dollars have been raised and donated to community-based charities. Last year alone, more than $12,000.00 was donated to charities in our community.
This year we are planning a year-long fund-raising event to help local veterans' charities. The final event of the drive will be held the Saturday before Veterans Day on November 9th, 2019. It will be a car show held in the Northwest Promenade between Chuy's and the Original Roadhouse Grill on Rosedale Highway here in Bakersfield.
In addition to the monies raised at the car show, your donation will help us reach our goal of raising $20,000.00 for these charities. The charities we will be donating to are Wounded Heroes Fund Kern County, California Veterans Assistance Foundation, Hoffmann Hospice – "We Honor Veterans Program," and Honor Flight Kern County. The funds donated to these charities will stay in our local community.
There are several ways you can help us achieve our goals. We are looking for sponsors, raffle prizes, and volunteers to help put on the event. Please let us know how you can help. Contact Us
Your tax-deductible donation will have a tremendous impact on the life of a local veteran. Thank you for partnering with us to help our local veterans.
Sincerely,
Virgil Miller
Event Chairman
P.S. – Although this is a year-long fund-raising event, we really appreciate your prompt action on this important cause.