Our non-profit 501(c)(3) organization is dedicated to charitable purposes within the communities of Kern County. We accept donations, raise money, and acquire grants to help our local community and other non-profit organizations.
You can help us by making a donation.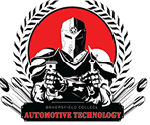 In 2021, the Corvettes of Bakersfield's Charity Board created a scholarship for students with the desire and aptitude to be part of Bakersfield College's vocational Automotive Technology Program. This new scholarship aligns with who we are; we are a club of individuals that love our cars and value the skills required to keep all vehicles performing safely and correctly. We also value our community and see this scholarship as an opportunity to support our youth and returning students desiring a valued vocation, but with some need for financial support. Interested students are encouraged to apply for this scholarship if they are interested in this certification program (and the additional classes to earn their Associates Degree, if desired). Special thank you to our long-time Corvettes of Bakersfield member and charter donor, Ray Thurm, for his generous donation. Ray is a retired auto shop educator.
Make a Donation to the Scholarship (Please add Automotive Technology Scholarship in the comments)
Corvettes of Bakersfield donations for 2019 equal $4,285.00 and more coming…

Wounded Heroes Fund Kern County – April 18, 2019 – $4,285.00 (Streets of Bakersfield)
Corvettes of Bakersfield donations for 2018 equal $12,800.00

Honor Flight Kern County – June 8, 2018 – $3,800.00 (Streets of Bakersfield)
Alzheimer's Disease Association of Kern County – October 13, 2018 – $1,000.00
Bakersfield ARC (BARC) – October 13, 2018 – $1,000.00
Bakersfield Firefighters Burn Foundation – October 13, 2018 – $1,000.00
Kern County 999 Foundation – October 13, 2018 – $1,000.00
Kern County Search and Rescue – October 13, 2018 – $1,000.00
Ronald McDonald House – Bakersfield – October 13, 2018 – $1,000.00
Unity Thrift and Outreach – October 13, 2018 – $1,000.00
Valley Fever Americas Foundation – October 13, 2018 – $1,000.00
Wounded Heroes Fund Kern County – October 13, 2018 – $1,000.00