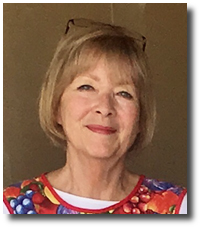 A Chat With One of Corvettes of Bakersfield's Charter Members
By: Gregory Brott
As my wife Carol and I sat down in Marilyn's beautiful West Bakersfield home we were about to find out the wonderful and rich tapestry of what is now Corvettes of Bakersfield.
A most gracious Marilyn explained Corvettes of Bakersfield was established in November 1967 as Associated Corvettes, a Bakersfield Corvette club and at the time a voting member of The Western States Corvette Council and Marilyn along with her husband, Fredie were one of the ten original Charter Members. Fredie was also the very first President of Associated Corvettes and held the position for three years while Marilyn was busy as Secretary and publishing the newsletter.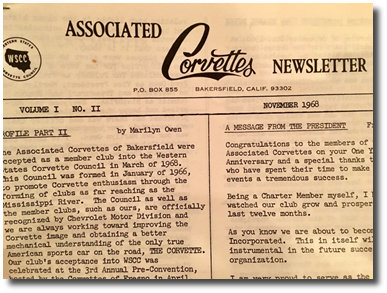 The original Sponsors of our fledgling club was Richland Chevrolet and Barnett's Goodyear with Three-Way Chevrolet replacing Richard in the 1980's and is still Corvettes of Bakersfield's premier sponsor.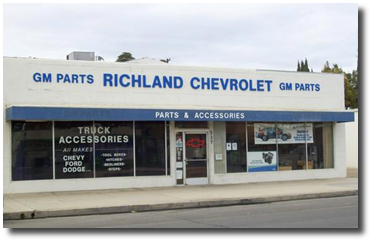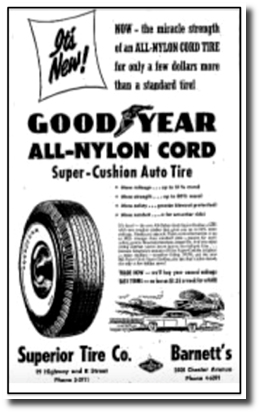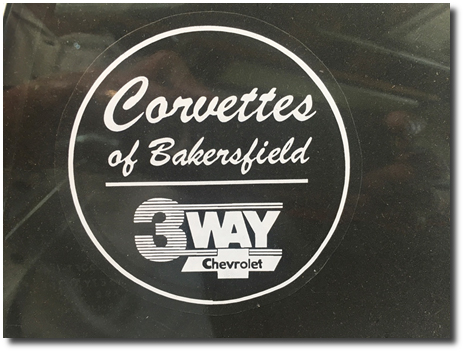 During these early years the Club met at Pizzaville on Oak Street for their monthly Corvette Camaraderie fix and were very involved with autocross and racing.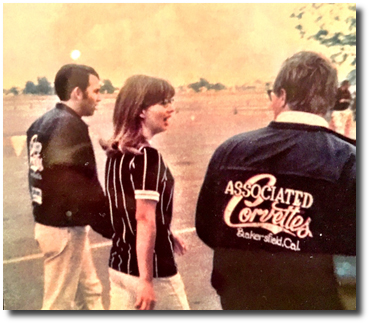 Fredie and Marilyn's first Corvette was a beautiful 1965 Milano Maroon coupe, which Marilyn still has and has plans for new paint sometime in the future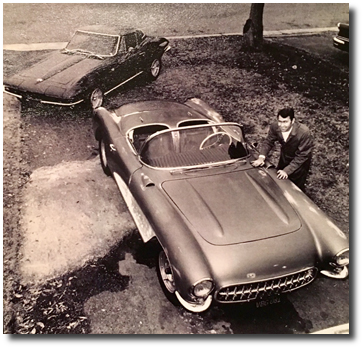 The C2 was followed with the purchase of a 1956 Artic Blue C1 with white coves which was sold to make way for a 1965 Marina Blue Coupe which they only kept for a few months while their original 1965 was being restored. They also purchased a 1989 Arctic White Coupe, which they ultimately traded in on their last new Corvette, a 2004 Machine Silver Coupe.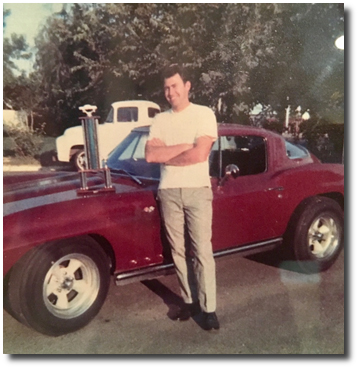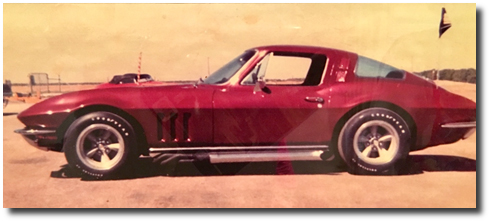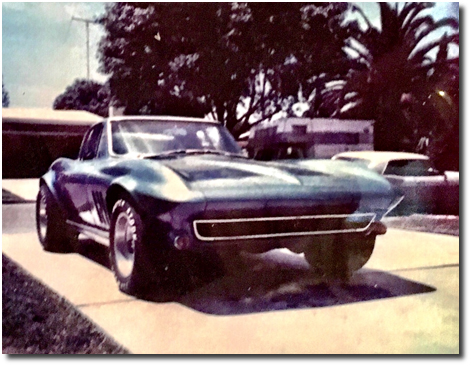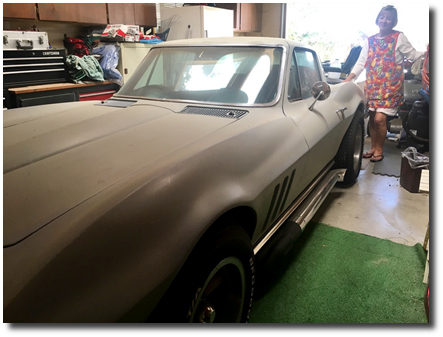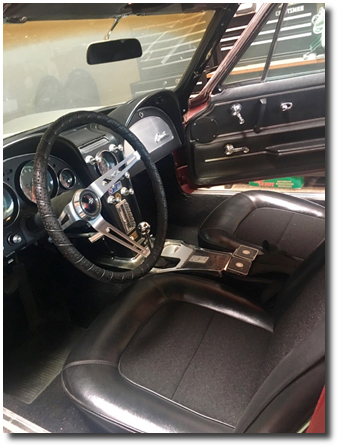 In 1969 Associated Corvettes brought to Bakersfield and hosted one of the largest Corvette Conventions in the Western States. The Corvette Council's Pre-convention, with Corvettes coming from as far away as Mississippi, put Bakersfield on the Corvette map.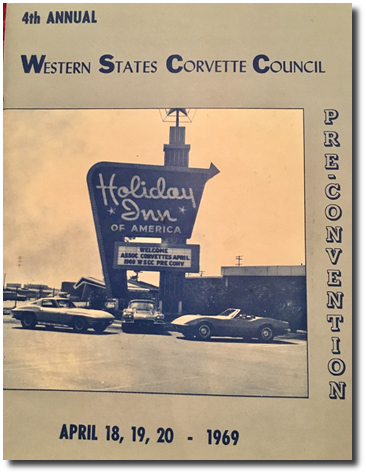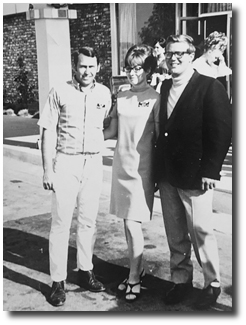 With a name change in the early 1970's the club became known as Corvettes of Bakersfield, a better fitting name to promote and enhance the image of Kern County and the City of Bakersfield to the rest of the Corvette Clubs, their families and our Kern County Sponsors and Charities. This was also the time when the paper newsletter was produced in magazine format and the name changed to Corvette Cross-Roads.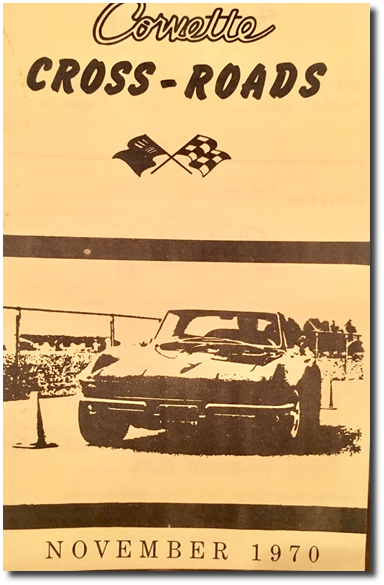 During the 80's and 90's both Fredie and Marilyn were involved with all things Corvette with Marilyn being the Event Director for quite some time. This was also the time in which Corvettes of Bakersfield was thinking BIG….that is with our First Corvettes of Bakersfield Gambler's Classic in 1992.
In the early 2000's both Fredie and Marilyn continued to enjoy time with the Club and purchased a beautiful 2004 Artic White C4 Corvette.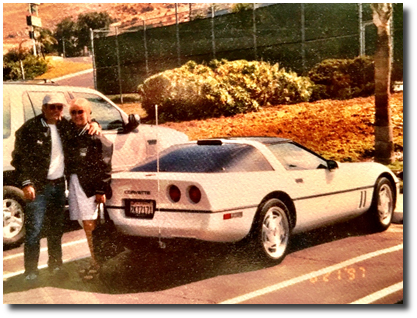 Marilyn retired in 2006 as the office manager for Renfro Cunningham Architects and Fredie retired in 1996 after 36 years as a Sub Station Electrician for PG&E. They both enjoyed their retirement and time spent with Corvettes of Bakersfield on events, runs and gets togethers until Fredie's untimely passing in 2008.
Upon their retirement they traded in the C4 and bought a stunning new 2004 Machine Silver C5 which Marilyn still has today and drives often and to Corvettes of Bakersfield events.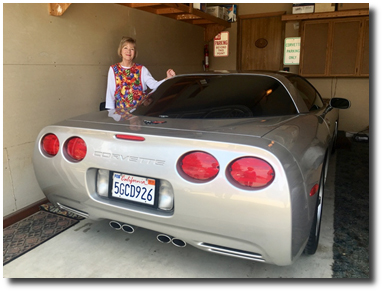 The past ten years for Marilyn involved family and Corvettes. She would always bring her grandkids along on club events at Kern County Raceway, the Glenville Run just to name a few. Her grandkids also helped stuff goodie bags for Laughlin and Streets of Bakersfield, Kern County Gun Club Shoot and many more. On the personal side, Marilyn continued, that she traveled to London twice, Scotland, Wales, Hawaii and China with family. Marilyn and her daughter also researched family history where they discovered a distant Grandfather of hers fought in the Revolutionary War against England and they are now registered and officially Daughters of the American Revolution, descended from the More family in England.
Because of Marilyn and the original Charter Members today Corvettes of Bakersfield, Inc. has a membership of over 75 member households, over 140 individual members and has contributed to local non-profit charities within the Bakersfield and Kern County, over $250.000.00!
When Carol and I left that Sunday afternoon we had a deep admiration for her 50 years of dedication and service to Corvettes of Bakersfield. We all owe Marilyn and the other Charter Members a sincere and heartfelt thank you for their dedication and foresight to make what we know today as the finest Corvette Club in existence a reality!